Since it is the jolliest time of the year, we have compiled the funniest political cartoons, and photos of famous politicians that you'll find on the Internet. We can't help but throw in a really hilarious signpost, and even one bumper sticker for these funny political pictures.
20. The truth about Hilary Clinton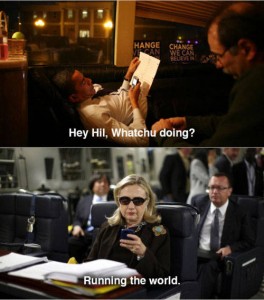 Few doubt that when a Zombie Apocalypse eventually happens, US Secretary of State Hillary Clinton will assume emergency dictatorship powers. She's proven herself capable of dealing with much more horrific things.
19. Say that again?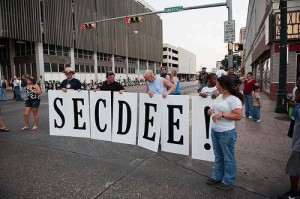 This would have been a seething statement from the Republicans. Too bad it backfired. Actually, it didn't fly at all.
18. Live Long and Prosper!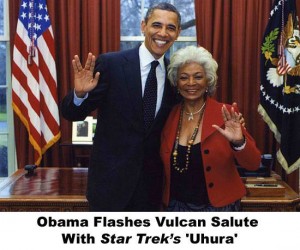 Geeks rule the Oval Office! Even if this is not generally funny, wouldn't it make you smile?
17. Hear Ye!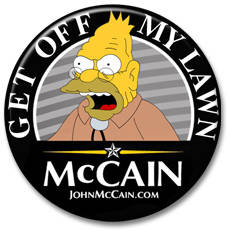 When even cartoon characters speak out, something must be very wrong. Before you vote, better hear what The Simpsons and their neighbors have to say.
16. The Counter-Shoe
And what if they are actually devoting one week of the 14-week specialized training for the Secret Service program somewhere outside of Washington DC? Would it still be funny?
15. Say that again, Governor?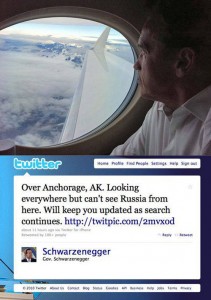 Just wondering why in the world he's looking for Russia at this altitude.
14. Is it still there, we wonder?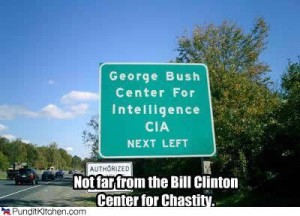 Sarcasm is not always funny, but in this case, it kind of works with the double double-entendre. Supporters of the former president (and the CIA) will definitely disagree, of course.
13. Electioneering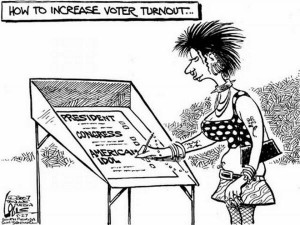 This must be the definitive political cartoon of the 21st century. They may even use in anywhere on the planet after a little retouching with Adobe Photoshop to replace "American" with the appropriate nationality.
12. My sentiments exactly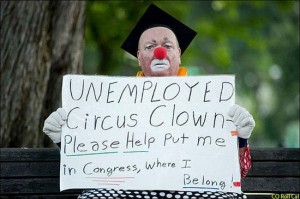 You don't know whether you'd laugh or cry. What has the world come to, now that clowns are already in Congress following on the footsteps of movie personalities? And we're not just talking about the US Congress.
11. This is the bumper sticker we're talking about

Those who stuck this bumper sticker prior to the election don't have to bother removing it. We hope.
10. A low estimate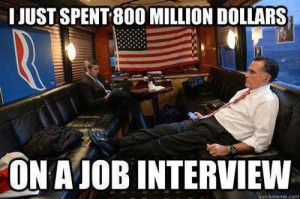 It's not far off to think that Mitt Romney was actually thinking this after the debate. If the figures are right he could enter himself into the Guinness Book of World Records as the person who spent the most for a job interview for a job he did not get.
9. Newt would still probably lose the Moon primary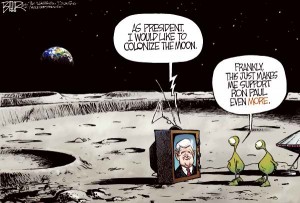 Gingrich is a true advocate of sustaining civilizations beyond the planet. Too bad the smear campaign that destroyed his prospects reached even beyond Earth.
8. Limits of fanaticism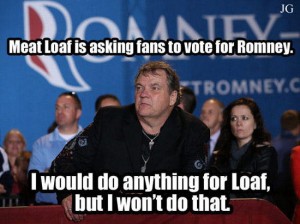 It's good to know that some people are able to separate celebrity and politics and use rock lyrics as a smart retort and a kind of subtle insinuation.
7. Wake-up call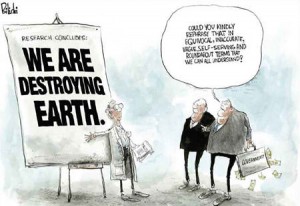 This may cause you a smirk, but it is not funny at all. It only illustrates and heightens the sad reality that climate policy is still not on the short list.
6. Queenly remark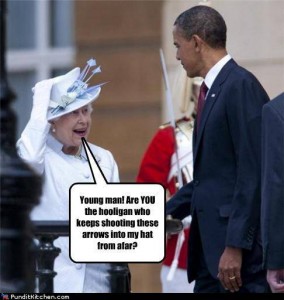 It is doubtful that the Queen will call the President a hooligan even in jest. And that's what makes this a successful attempt at poking fun.
5. Game boy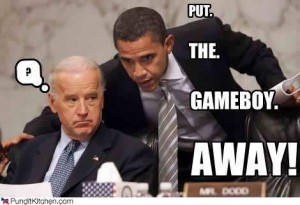 Does this also suggest that Joe Biden is stuck with a more primitive gaming platform?
4. Wrong place, wrong time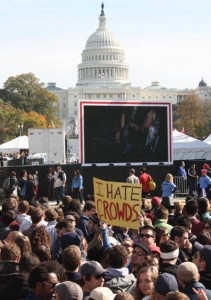 There are so many downright hilarious (and mostly ironic) protest signs floating around in the cloud. But we chose this one because it doesn't even have to try to be funny.
3. Sarah Palin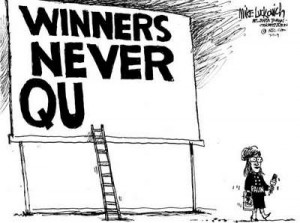 Would she still have gone beyond the borders of Alaska if she knew of the amount of ridicule that will be thrown at her? Yeah, probably.
2. Not so happy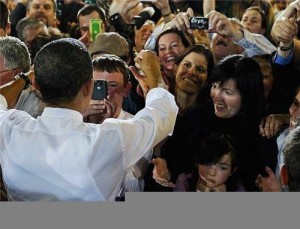 That little girl's scowl is priceless even if she is not really a Republican.
1. Ha!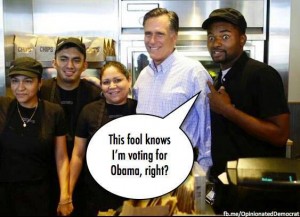 Some people are so transparent that their thoughts are written all over their face. It's a good thing somebody wrote the words for the benefit of those who aren't keen enough to see.
Perhaps because politicians and politics keep disappointing the public that elected them in office that people just resort to making fun of them and their failures, through funny political pictures, rather than wallow in well, disappointment.