Basketball sneaker endorsements do not necessarily determine the level of skill of a basketball player. Even if Nike sneakers dominate the National Basketball Association (more so these days) it does not mean that all of the great ones wore (or wear) Nikes. Here are top ten basketball players who excelled at the sport and did not wear Nikes (at least inside the court).
10. Larry Bird Wore Converse shoes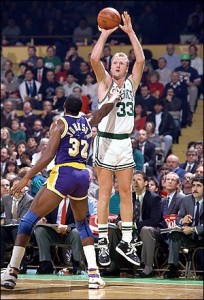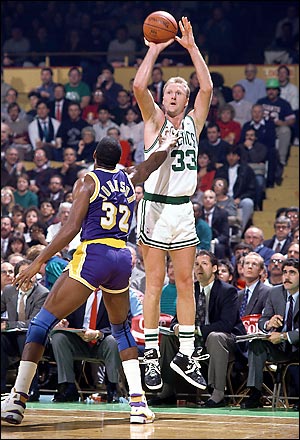 Larry Joe Bird, three-time NBA Most Valuable Player and arguably the most famous Boston Celtics team member of all time wore Converse shoes. Yes, he even wore those to the 1992 Barcelona Olympics and received his gold medal wearing said footwear. He retired in 1992 as a player, but moved on to coaching and then some basketball admin work. So far, he is the only individual in the NBA to have received Executive of the Year, Coach of the Year, and Most Valuable Player awards and membership to the 50-40-90 Club.
9. Isiah Thomas Wore Asics
Isaiah Thomas' worn, scratched, scuffed and almost torn pair of autographed and authenticated Asics is undisputable proof that this point guard really could (and did). Thomas is on the list of the 50 Greatest Players in NBA History and he didn't need to wear Nike sneakers to get there.
8. Karl Malone's Apex Mailman Shoes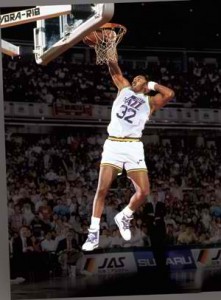 Karl Malone signed up for Apex when it was revived with his endorsement deal. He was the most popular (and able) Utah Jazz players at that time and garnered two MVP Awards and a couple of Olympic gold medals, too. His signature Mailman shoes became public in 1998 but did not make it to store shelves.
7. Clyde Drexler Wore Roos
Roos? The reason why you haven't heard of them is that they are quite rare. But we hope you have heard about Clyde "The Glide" Drexler. He's one of the smoothest players of the NBA ever, and we mean that in a good way. Maybe it was the Roos? He played shooting guard/small forward for the Portland Trailblazers and the Houston Rockets. The Roos brought him to the Olympics awarding ceremony and 50 Greatest Players list, too.
6. Patrick Ewing Has His Own Shoe Company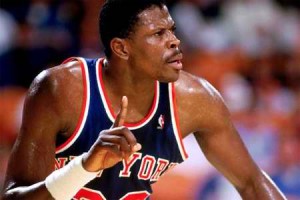 NBA Hall of Famer Patrick Aloysius Ewing, Sr. used to be the Center for the New York Knicks, but now he is a sneaker executive. He just re-launched his shoe company called Ewing Athletics. Basketball sneakers might be going at $100 a pair. No doubt people would go for it if they know that ESPN named him the 16th greatest college player of all time.
5. Hakeem Olajuwon Wore Etonic and endorsed Spalding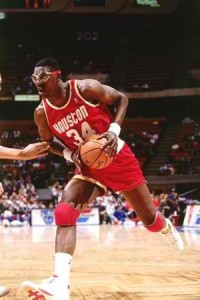 Hakeem Olajuwon turned heads and ears and not because of the shoes he was wearing when he played for the Toronto Raptors and Houston Rockets back in the day. He was 2.13 meters tall (7 ft.) and is in the Basketball Hall of Fame mainly because he was a remarkable Center throughout his career. He didn't need Nikes to get into the 50 Greatest list, too.
4. Shaq was spokesperson for Reebok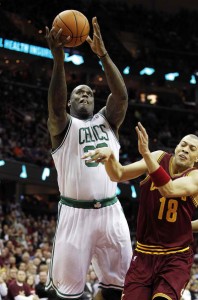 Shaquille O'Neal now has a Dunkman line to call his own. Exeter Brands have made available to the public ($40 a pair) O'Neal's game shoes. Air Jordans and LeBron's Air Zooms get the long lines, but those who remember Shaq's achievement (MVP, All-Star, Rookie of the Year, and the all-time points, goals, rebounds, and blocks records) might get a whiff of nostalgia and get themselves a pair of Dunkmans.
3. Kareem Abdul Jabbar wore Adidas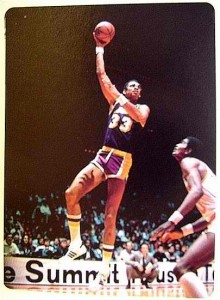 Ferdinand Lewis Alcindor, Jr. known the world over by his Muslim name is still the leading scorer of the NBA (38, 387 points). He had the most accolades and recognitions before Michael Jordan entered the picture and Adidas was smart enough to stick with him. This year, he was appointed US cultural ambassador. We'd be looking out for what footwear he's into now.
2. Kobe wore Adidas and Nike and then had a falling out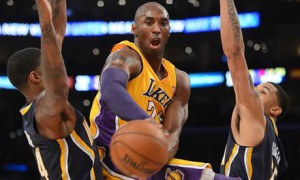 Kobe Bryant the LA Lakers shooting guard who figured in many Nike commercials (remember the one with Tiger Woods, Roger Federer, Rafael Nadal, Manny Pac quiao, and other top athletes?) was dropped by Nike when he became involved in a scandal. Evidently, his brilliant career (MVP, champion, All-Star, Olympics) is still valued by Nike that we hear they're selling Kobe Zooms again.
1. Magic Johnson wore Converse, too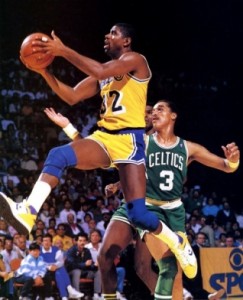 Earvin "Magic" Johnson, considered by many the best point guard ever to play the game, was drafted in 1979 (1st overall pick) and retired in 1996 with 17, 707 points, 6, 559 rebounds, and 10, 141 assists to his name. Magic had a legendary on-court rivalry with Larry Bird. Does it have something to do with the Converse shoes that they were both wearing at that period in their careers?
Just to be clear, we have nothing against Nike. They make amazing footwear and they have picked some real heroes of the game to endorse their products. It's probably that they overlooked these top ten basketball players so that the competition would have an impressive roster of their own.