If your are intent on keeping a handgun in your home here is a list of top ten handguns that are from companies known to make reliable firearms. We have provided a short profile for each model so that you will know the specifications of each and if they fit your stringent requirements.
10. Taurus PT92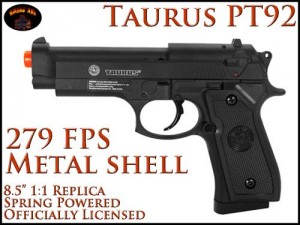 The Taurus PT92 is another innovative action pistol from a manufacturer of reliable handguns. It is recognized as the licensed replica of the Beretta 92. This semi-automatic model is small enough for concealment if you wish to carry it around, yet it has also the power for home defense with its improved trigger mechanism. One of the most advantageous features of this handgun is that it is very easy to use and even easier to maintain.
9. Charter Arms Pit Bull .40
This all American firearm is the first rimless .40 S&W in the world. The Pit Bull has a frame similar to that of the Charter Arms .44 Special with a rubber grip and stainless steel finish. You can submit a request for a DAO (double action only) hammer if you're not satisfied with the standard hammer. This revolver is being build up as the ideal back-up piece for law enforcement.
8. Rossi .357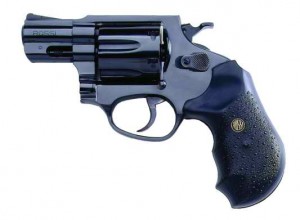 This brand of handgun has been around for 100 years and is now owned by Taurus. Rossi .357 caliber revolvers are quite lightweight yet powerful enough to protect a carrier who knows when and how to use it. This revolver is endowed with a lifetime repair policy from the manufacturer. The locking device used is the Taurus Security System that ensures security when not in use.
7. Glock 19
The very accurate, semi-automatic Glock 19 has an unwavering appeal to firearm and home defense enthusiasts mainly because it is the epitome of model handguns and high power in a small package. Even when it holds a full 19 rounds, it only weighs 29 ounces (.82 kg).
6. Heckler & Koch P2000
If you are partial to Heckler and Koch, the P2000 is a good option, and there are two calibers that you can check out (.40 caliber or 9 mm). The P2000's grip panels may be customized to your specifications. The trigger mechanism provided even the weakest trigger finger because it requires only 6 lbs of force.
5. Kahr Arms K9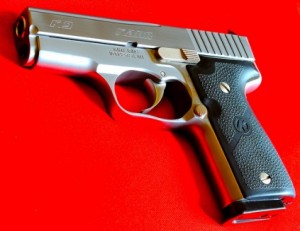 The Kahr Arms K9 is currently one of the smallest firearms available in the market today. For this reason, it is often recommended for women who are looking to own a handgun for protection. The K9 is still considered an accurate shooter for emergency situations. The 9 mm model has a small frame that contains eight rounds.
4. The NAA Guardian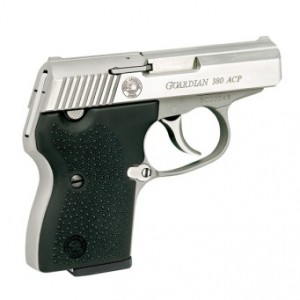 Another semi-automatic pistol that is highly recommended for women shooters is the Guardian. This gun carries seven rounds. It is available in two models (.32 and .380 caliber). It has a durable stainless steel frame and despite its small size is guaranteed dependable for long use.
3. The Ruger LCP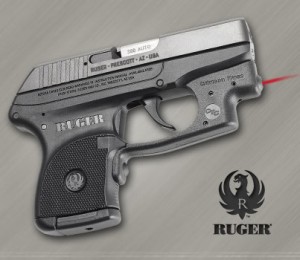 And we have one more handgun for women on this list—the semi-automatic Ruger LCP. The .380 caliber is a dependable gun that holds seven rounds. This handgun would fit right well into a thigh holster for women who prefer to carry a concealed weapon for her own protection.
2. Walther PPQ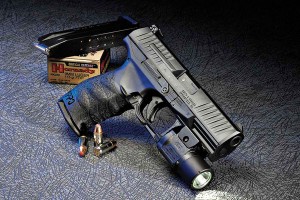 This is considered to be the successor of the favorite handgun of everyone's favorite English spy – no, not Johnny English, but 007. But that's just what we heard. Nevertheless, the Walther PPQ is a semi-automatic pistol with a modern and fully ergonomic design. It's very light at only 21.7 oz. and can be fitted with state-of-the-art accessories.
1. Smith & Wesson 686 .357 Magnum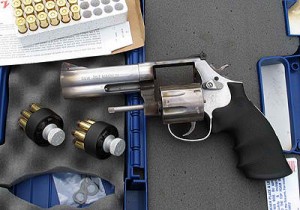 The revolver is for many still the best type of hand gun for personal protection. This L-Frame model has features that impress even the most serious gun enthusiasts. This gun has a stainless steel frame and carries six or seven rounds and is meant for heavy use.
No matter what model or caliber you prefer, the important thing is to have a license to carry any of the top ten handguns featured here. And after getting one, you have to learn how to shoot it and be ready to use it to defend yourself and your loved ones when the time comes.