Before anything else, this article may contain adult material so you might want to become discreet, most especially when you are at work or when there are children around. Moving on, sex has been one of the most controversial issues known today. The topic has been vilified, adored, worshipped, and condemned. You have to admit, it is a powerful topic that can affect everyone quite strongly and differently, depending on the morals, principles, and beliefs. It has been labeled and known for many names such as making love, lust, sin, work of the devil, immoral, game, etc. What many people don't know is that is has also been called odd or weird. Yes, you got that right. No matter how uncommon these things are, bizarre sex acts still exist and it lives within our society today. You would totally be surprised about how peculiar these sex habits are that one might think that it is not a normal behavior anymore. Let's all leave it up to you, shall we? Here is the top ten list on bizarre sexual acts that you wouldn't believe existed!
10. Being sexually attracted to a statue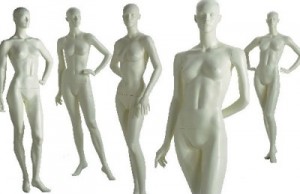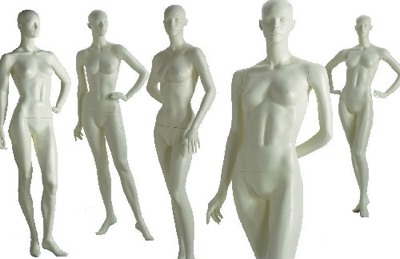 Also known as agalmatophilia, this is a condition wherein a person is turned on with a statue, a doll, or any similar objects. This bizarre behavior includes having sex with these inanimate things. They find erotic pleasure with the fact that they can do whatever that they want to a particular statue. Sometimes, these individuals like having sexual pleasures from these objects so much that they tend to "fall in love" with these things.
9. Eating sushi on a naked body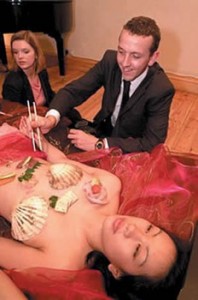 In Japan, this is actually called nyotaimori. It involves eating sushi on top of a naked woman. The naked model is trained to lie down for hours as the guests start to eat from her body. All body hairs, particularly the pubic hair, are completely shaved and the woman is bathed in a fragrance-free soap for hygienic purposes. Strange, isn't it?
8. Animalistic role-play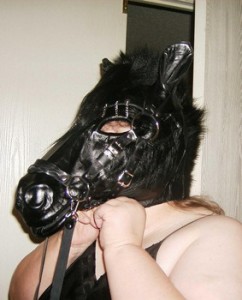 This kind of odd sexual behavior involves one partner acting like an animal. The person finds it erotic to have an animal role playing game, often finding sexual pleasures from it. The most common animals that are being portrayed are lion, ponies, horses, dog, wolf, cats, and kitten. The "animal" partner can be pulled in a cart or be ridden like a horse.
7. Cannibalism is a turn on
Believe it or not, thoughts about eating other people arouse some individuals. It is rather sick but it still happens. They don't actually eat the person that they are with (that is just plain wrong!) but what they do is they role-play, with makeup and all that, looking like the person is about to be gutted or cut. These people even add some vegetables to their foreplay.
6. Pretending to be dead meets intercourse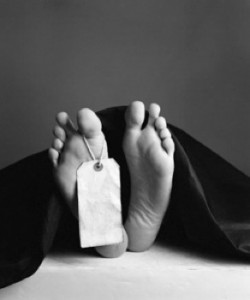 Also known as pseudonecrophilia, this is very similar to necrophilia. The only BIG difference is, the person is not really dead but only pretending to be dead, hence the name pseudonecrophilia. The pretending person will just lie down and not move at all. There are even times that they will bathe themselves with cold water to get that "corpse" feeling.
5. Vandalizing pretty girls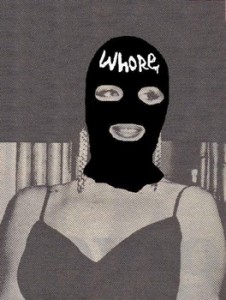 Here is an interesting fetish, it is called salirophilia. The person finds pleasure by making pretty women ugly. What these individuals do is ruin the girl's makeup, hair, cut their dresses into tatters, and the like. In short, they make them look so ugly. Apparently, this is a major turn on to these people.
4. Mummify me!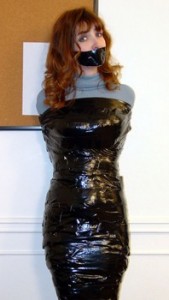 Mummification is a type of bondage that includes wrapping a person around with duct tape, body bags, plasters, straight jackets, etc. to "mummify" the partner involved. The person finds this very erotic. He will start his foreplay while the individual is completely bonded, often teasing the person until it becomes unbearable. The "mummy" will then be released from the bonds so they can start the sexual intercourse.
3. Putting his penis inside his own anus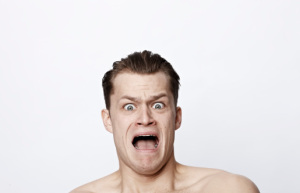 Now get ready because this is certainly a shocker to everyone. There is a certain condition that is called autopederasty. This means that a man can insert his fully erected penis in his own anus. Yes, you read that right. This is very rare, only one percent of the whole population can do this extremely weird thing but it happens and these people, somehow, find pleasure with this kind of bizarre sexual behavior.
2. Being aroused with deformed people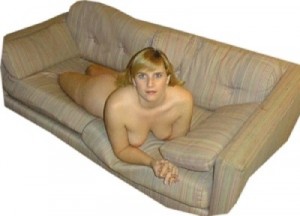 Teratophilia is where a person is addicted to having sex with deformed individuals. The more disfigured the partner is, the more aroused this person gets. From finding sexual pleasures to an amputated person to having erotic fantasies to a deformed face, everything that is not normal on the body is a major plus point to these people. This act is kind and weird at the same time.
1. Vomiting is erotic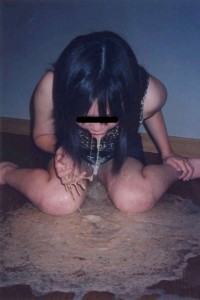 The number one bizarre sex act is pretty self-explanatory. Also known as emetophilia, erotic vomiting is an action wherein a person literally vomits (usually, it is self-induced) in front of her partner to further stimulate and arouse the man who has this condition. Gross, isn't it? Who would have thought that puking can be a turn on to some people. Aren't we all glad that conditions like this one are not common?
These bizarre sex acts certainly look like it came out from one of Ripley's Believe It or Not episodes don't you think? But hey, who are we to judge? People have their own peculiarities and some of them just happen to like weird sex behavior. Regardless if this action is normal or not, it is still important that we give these guys space and respect for as long as they don't cause any harm on others. So, what is your fetish? Maybe it is included in one of the top tens. Whatever it is, our lips are sealed.